EMBEDDED WITH THE WEATHERMEN (2006)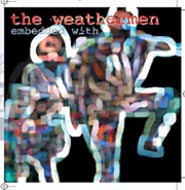 The latest effort by the post-legendary never-imitated, never self-limiting The Weathermen, called "Embedded With The Weathermen" is, again, a shock.
This time, it's an album full of subliminal messages couched in a not-so-easy listening format, designed "to relax while answering essential meta-physiological un-asked questions", according to one of the group's spokespersons. Waves of electro sounds and infected lyrics warrant the listener to a unique aural experience.
Themes of the songs include driving under the influence of a Global Positionning System (also known as GPS), the future of flirtation via implanted microchips (yuck!), larynx-dectomy (yuck!), spy techniques using doubles and various non assertive make believes, exoneration of violence due to stress and the urging of the will-to-do-to-kill-each-other can hardly be called 'easy listening', but The Weathermen have once again pulled a seductive negligée of negligence over a thinly disguised un-embedded un-dead Golem.
Once again, ten songs guaranteed to further confuse a public hungry for high-contented content.