TEN DEADLY KISSES (1986)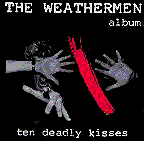 After four 12 inch singles, the record company was excited about the possibility that just maybe, there was enough material for an album...No such luck, bozos, since more songs were needed to complete an album.

Already in the can was some stuff done with Michel Van Gijsel (the engineer who started The Weathermen with Jean-Marc Lederman and worked on the first three 12inches) but it was time to move on to new aural horizons. Shit! that sounds bad already !
So, The Weathermen met with Belgian producer Ludo Camberlin, who already had a housename working with Neon Judgement. In Ludo's small 'Anything But' studio located in the basement of PIAS, the three fearless men (Bruce, Ludo and JM) decided to have a go at writing new material to complete what would be Ten Deadly Kisses. 6 new songs were created and the other tracks were edited versions of the early records, sometimes with added or re-recorded vocals.
At that time, the equipment affordable to small groups was scarce. On Ludo's recording, at the time of Ten Deadly Kisses, most of the sequencing was done on the Commodore 16 and the only sampler was the low budget Akai S1200, but that shortage of equipment was ideal for The Weathermen's very primitive approach to sound design anyway...