POISON, the song that walks by itself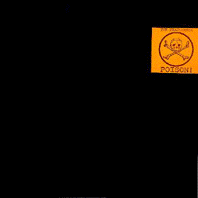 There you have it: 'Poison' is undoubtely the song that gave The Weathermen their 15 mins of fame altho it felt like 15 seconds... Recorded at Ludo's studio, it was done in two days on an 8 tracks machine. Because of the shortage of tracks available, the vocals had to be recorded with the sound effects. It's aaaaaaaaaall Poison !
The lyrics are about pollution, any kind of pollution. The pollution that makes this planet the dump that the entire universe is laughing about, the pollution that comes from TV, and that which comes from people who try to force their ideas down your throat.
It features another annoying intrusion of Susanna Stammer, proclaiming she's about to make our lives misery. And scratch all our Bruce Springsteen records- which The Weathermen honestly couldn't have cared less about. They didn't have any.

Unfortunately, Poison was to start a dilemma for The Weathermen: Demands for live gigs were beginning to come in, the need for pictures and promo, the pressure of the record company for more visibility, those minor details were about to smash to pieces The Weathermen's happy incognito. At the time, The Weathermen were only 'known' thru their pseudonyms: Bruce Geduldig was Susanna Stammer, Bubu and Chuck B, while Jean-Marc Lederman took Patricia Hearst and Jimmyjoe Snark III as his signature. They could go shopping without being recognised. Mind you, even after they went public, they still could. Even more so.
So, the band had to come out and tour. There was little money to put some extravaganza show together, so they went for dramatically revamped motocross gear and Super8 movies made by Bruce.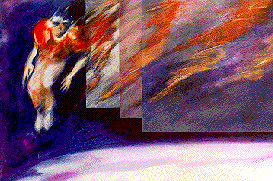 Jimmy, painting by Erica Hinyot

The shows used to do better in clubs than in rock places.Dunno why.
The Weathermen never accepted to do arenas, even tho they were proposed to headline the Grow-Your-Own-Vegetables Aid gig, back in Tulapassee, Ohio.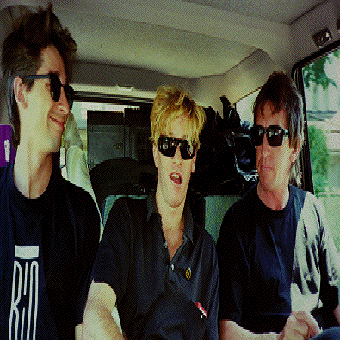 Daz (the lights engineer), Bruce and Ludo Camberlin Switzerland, 1988&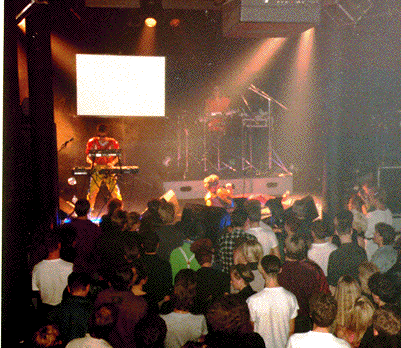 Jimmyjoe working the Ensoniq, while Bruce rests on the ground. Texan drummer Paul Zahl on drums. The Melkweg, Amsterdam 1988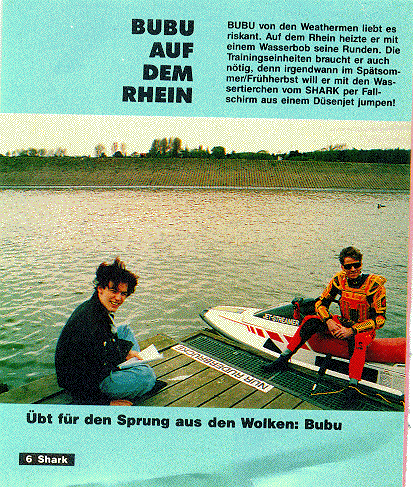 The Weathermen decided to fulfill promo interests by always trying their best to look stupid and out-of-place. They succeeded beyond their wildest dreams!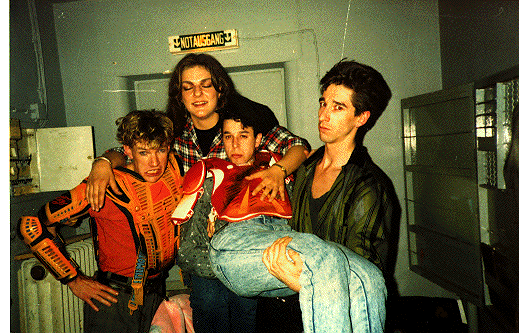 In order to protect themselves against non-existing mob hysteria, The Weathermen demanded to be protected by female bodyguards.
This is Greta. She's 2m02 and she likes you very much already !
Bruce, Great, Jimmyjoe in the hands of Daz, pic taken by Ludo Camberlin probably (Koln, Germany 1987)


Poison even found itself as song of the week in Belgium's main dailypaper Le Soir...